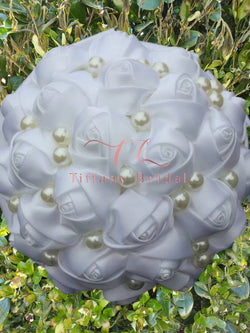 Satin White Pearl Wedding Bouquet
This romantic satin white pearl bouquet will make a beautiful addition to your bridal look. This can be a bride bouquet, bridesmaid bouquet, toss bouquet, keepsake or mother of the bride bouquet.
▪︎The bouquet can be customized with your choice of pearl color.
▪︎The bouquet is made with satin roses, that looks and feel like real flowers.
This bouquet will go well with our pearl tiara, so order your combo together!
Please message us, if you would like to customize your bouquet with the colors of your choice.
☆This is a custom order and not available for returns or exchanges.
The product matches description.
The product matches description.